Do you want to work in Japan? If you so, you'd better know how to make your CV in a Japanese style.
Today we will introduce how to make your Japanese CV properly.
Also, we are going to point out to you which CVs are much more attractive to HR.
Step 1 [ Get a Japanese version of a CV template ]
There are many CV templates you can easily search for and find on the web.
First, we recommend finding a Japanese resume template like the one below. It's called "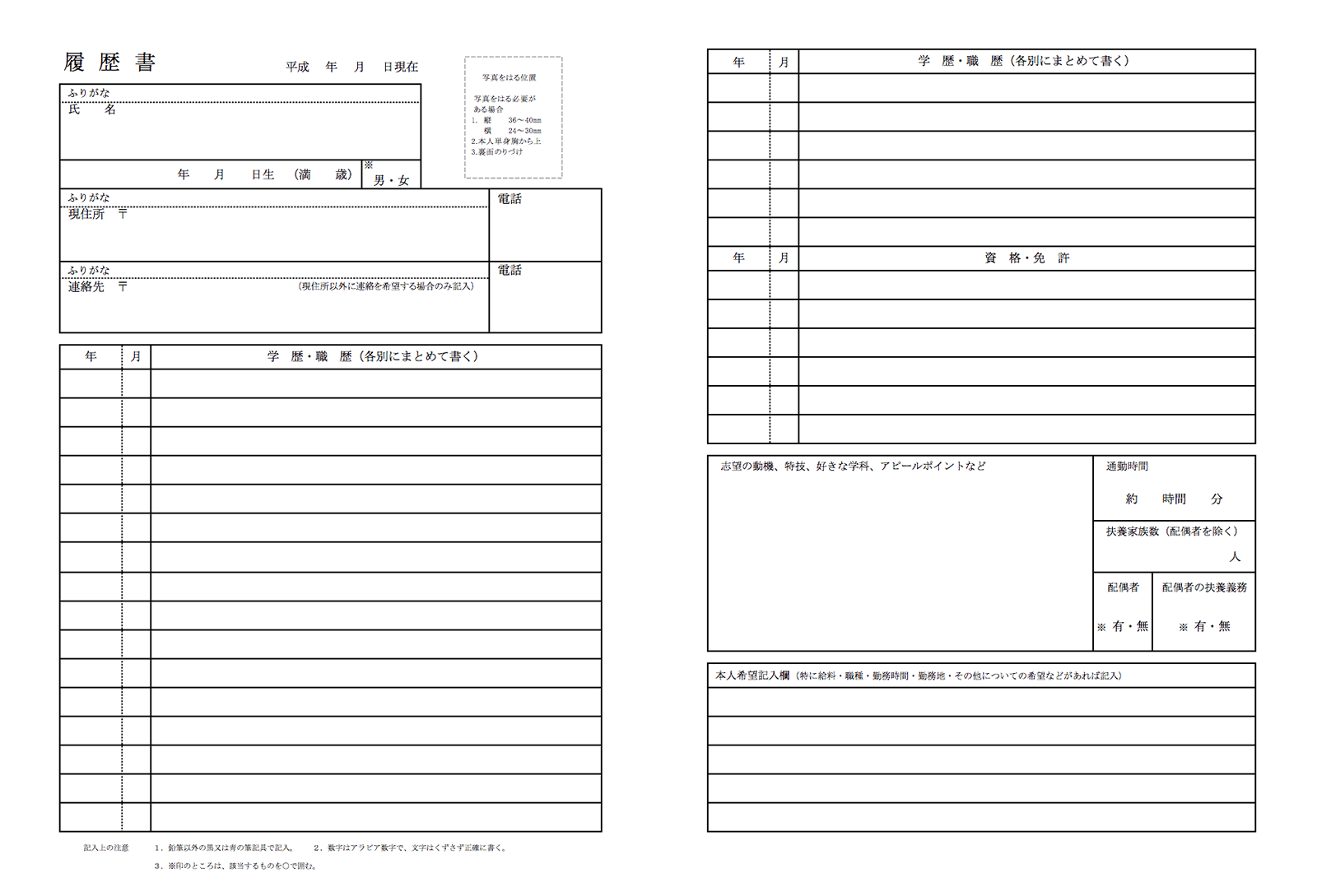 It's called "履歴書" in Japanese.
It has many sections you have to fill-in as much as possible.We guess the Japanese resume is similar to other countries apart from the inclusion of a photo and age.You need to attach your ID photo such as a passport photo.This is still common here(it's not illegal in Japan).You can take the photo at photo shops, an instant photo vending machine or take a selfie.Don't forget the photo should be of you with a neutral expression.(It should look nice, but do not smile nor show your teeth)
Although it may be strange, you also have to write your age.
Other sections are pretty similar to other countries resumes. There is a section for your educational background, your work experience, and your qualification. Don't forget to specify the reason for your application.
Step 2 [ Make another resume of specialized work experience ]
This CV focuses more on your work experience.You need to prepare this in addition to the Step1 CV.
There are some templates on the web. Please choose the most useful one for you.
We will show you some examples below. 
Sample 1  * Pretty simple format maybe start with this template.

Sample 2 * Original design format It looks so stylish and cool!
You can choose whatever template you want.However, Don't forget which company you are applying to. If you apply to a financial company, you should pick sample 1. On the other hand, applying to a Design company(like an advertising agency)you may prefer to choose sample 2.It depends on the company you are applying to.
Step 3 [ Double check before sending your CV ]
When you've completed your CV, please double check it. Make sure that every section is written down, your impression and grammar are the best and your ID photo is attached.
Another concern you might have is about language. The best way is using Japanese. Unfortunately in Japanese companies in English isn't the common.If you don't have any confidence of using Japanese, it's OK.Please try to write the step1 resume in Japanese and write the step2 CV in English.We can help you & give you some advice.
You are a master of making a CV now!
If you have any questions, feel free to ask us anything!
Provided by キャリアフライ